A designer of his generation, Sep Verboom is both local and global and preoccupied with ecological and social issues, not just as a producer and innovator, but as someone who inspires and aspires to make the world a better place as well.
The Ghent-based creative is at once a designer and a social entrepreneur, less concerned with the result and more with the context in which it takes place.
Focused on showcasing sustainable and ethical substitutes to standard industrial production, and favouring low-tech approaches dependent on centuries of savoir-faire, he wants people to know the origin of products, from who made them to the materials they're made from.
Instead of designing for established furniture manufacturers, he founded Livable in 2015. It works on projects involving in-depth research leading to innovative solutions – generally in cooperation with organisations and institutions, local governments, NGOs, curators and industrial design partners.
"There are a lot of career-driven designers who focus only on the aesthetics and the economic side," Sep notes. "Eventually, these people will notice that they have to reinvent themselves; it is already happening now. Believing in a balance between the economic, social and environmental impact we create, I have always been convinced that there is a lot more to our profession."
"The conventional career path is not working any more. Big-name furniture manufacturers feel the heat to change course and future-proof designers embrace the fact that we need to work together with a wider range of expertise,"he adds.
"Taking just the look or the saleability of a design into account is no longer of this time. My designs result from a specific question or need. We still have a long way to go in terms of durable design. I aim to offer an alternative approach."
Art & Craft
Born in 1990 and raised in the village of De Pinte near Ghent, Sep studied offset printing and graphic design in high school, and graduated with a degree in industrial design in 2012 from Howest and then in sustainable development from Vives University of Applied Sciences. Both are in Kortrijk, Belgium.
Fond of collaborating with small craft communities, he immerses himself in each location's indigenous culture to seek innovative, creative solutions, whether or not they lead to an object.
"Whatever the outcome of the research, it is more about the environment and the process rather than the final aim itself," he explains. "I tend to attach more importance to the story and the process."
This has resulted in carpets, side tables, wooden trays and ceramic sculptures becoming available in limited quantities via his Livable website. The intent is to provide full transparency to the end consumer to encourage responsible consumption.
Child of Earth
Believing in the power of collaboration and always merging different perspectives, civilisations and partners, Sep's research has taken him to far-flung destinations like the Philippines, Indonesia, Peru and Brazil. "Our design language is a fusion of expertise from all the people and artisans involved," he points out.
"I believe in the strength of the right expertise on the right challenge. Therefore, a community with diverse strengths can help with new insights into contemporary challenges." His final graduation project saw him flying to the Philippines, where he partnered with social environmentalist Nida Cabrera to reinvent waste management in Cebu.
He created the Fan lamp, a new product that was made out of recycled electric fan guards bought directly from community scrap merchants and incorporated the Philippines' rich culture of weaving, thereby stimulating the local economy and tapping Cebu's outstanding wicker industry.
Then there is the Joias collection. A co-creation involving artisans of Santa Isabel do Parnaiba in Brazil and three Belgian designers influenced by the paradisiacal environment, the collection is made from the sun-dried fibres of the carnauba palm tree and consists of lamps, tables, baskets, mirrors and masks.
In the remote Peruvian Amazon, Sep collaborated with AIDER, Flemish NGO Bos+ and CiteIndigena, which led to the Jiwi collection that includes vases, trays and containers for the local market. "For sale to the Peruvian market only, it was quite a mindset shift to design for a local market instead of for Western consumers," Sep discloses.
A Delicate Balance
Sep's projects are an intelligent assemblage of local craft, community engagement, contemporary design and sustainability, part of a new generation of Belgian designers driven by a profound sense of social responsibility.
"Our capitalistic system and our way of living are not balanced," states Sep. "Our striving for the everlasting growth of the economy has a devastating effect, not only on our environment but also on our society as humans. Too often, we measure success and profit in terms of economic numbers. What has happened to the importance of people's well-being and the health of our environment?"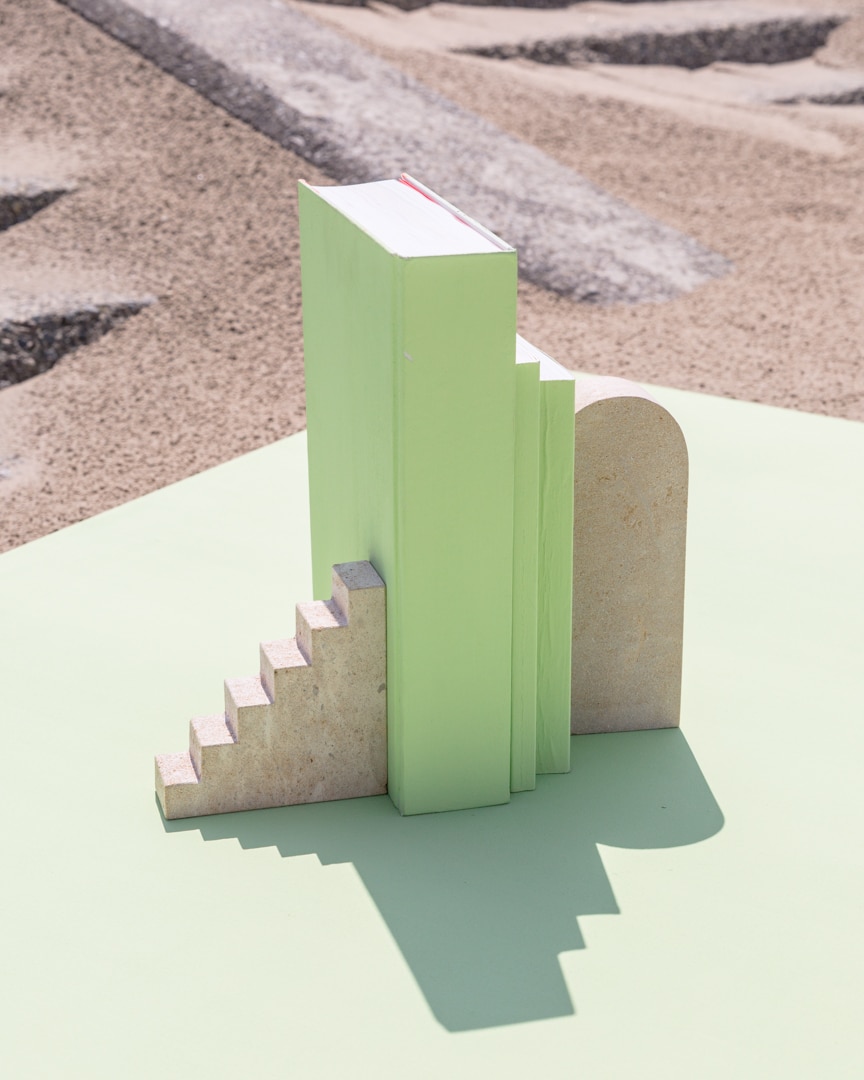 His strength lies in connecting people, setting projects in motion and guiding them through to completion. In 2018, he designed stone bookends and a table lamp for the first collection by Volmaakt, a Ghent initiative aiming to bring the social economy and local companies together to back creative talent. They worked together to find a balance between an artisanal approach and a market-oriented, commercial outcome.
Sep describes his creative process: "Each project starts with a local representative who provides a lot of insight into the local situation, politics, approach, languages and cultural behaviour. The second important step is the introduction. It's so important to communicate mutual expectations and intentions.
Next is integration and observation; taking the time to get to know the people involved and build trust. "Mostly, my job as a designer is to connect the right dots because all the expertise and knowledge are already present there within the community."
"Once you get to know the local situation and the challenges, it is a process of materialising a concept, working together on material explorations and taking into account the expertise of all the people involved. You could say that form is following the ability to communicate and express this knowledge to an outside world."
Last October, Biennale Interieur, Belgium's leading design and interior fair, named Sep Designer of the Year 2020. The jury cited: "In this unusual and momentous year 2020, designer Sep Verboom illustrates the importance of socially-engaged designers. His young oeuvre, durable and collective and bound together with a little strip of rattan palm, proudly displays its socially-engaged character, as well as its search for a more beautiful world in the widest meaning of the word."
The award was followed by an exhibition of his recent projects and the debut of his Livable platform. The culmination of the learning gleaned from all of the Livable projects since the start, the platform hopes to attract diverse, like-minded partners to continue Sep's research into new ways of working, create a critical design community and share his experiences with audiences worldwide through workshops, lectures and coaching sessions, both digital and physical.
Thinking Ahead
A current project sees Sep experimenting with the translucent capiz oyster shell, found in the Philippines, as a new sustainable material for prototyping an eyewear range, which he expects will inspire new uses.
"Capiz shells live in turbulent times," he says. "Bottom trawling, dynamite fishing, warming waters and stronger currents are declining populations. Communities depend on them for their livelihoods and a clean environment. We launched an invitation to review the use of capiz shells and to protect and stimulate the whole ecosystem."
ONTketen, another initiative, is a collaboration with green maintenance service Pro Natura and tech partner Circular Matters that examines how green refuse can be transformed into bio-based solutions. "The Designer of the Year prize encourages me to continue my way of working," Sep concludes.
"At the same time, it signals a rather neat message: design is more diverse than often thought. The idea of the designer as a form giver reveals a full design process, and it shows the diversity within the design world."