With condominium developments being launched all over the island, 2023 seems to be an opportune time to consider purchasing one for investment or upgrading.
Apart from the price and possible return of investment, how to choose the right condo for your family?
For those who love hosting parties in the comfort of their home, condos with swimming pool often makes all the difference in setting the mood. Otherwise, you may prefer a condo that's located in the city fringe area, near your office in the Central Business District (CBD). Finally, you may prefer unique facilities that some condominiums may have that can cater to your lifestyle.
If you're in the market for some condo shopping this year, be sure to browse through our best condos list here for some inspiration and ideas.
Content
5 Best Freehold Condos with Swimming Pool
Here, we have picked out five freehold condos under $2.3 million that would make the perfect party setting.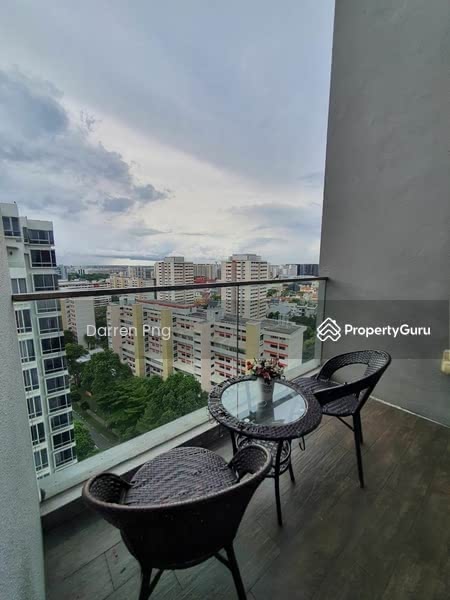 38 I Suites (38 Ipoh Lane) – $1,280,000
| | |
| --- | --- |
| Address: | 38 Ipoh Lane, 438646 |
| Tenure: | Freehold |
| Size: | 1,066 sqft (2 Bed, 1 Bath) |
| $PSF: | $1,200.75 PSF |
| Developer: | Sustained Land Pte Ltd |
| TOP: | 2014 |
Sized at 1,066 square feet, this unit has a rather simple layout with 1 bedroom, 1 study room and a bathroom that connects those two rooms together in a Jack-and-Jill manner. 
Penthouse with Private Pool
Undoubtedly, the main highlight of this penthouse unit is its roof terrace and the private pool that is surprisingly rather spacious.
Owners can easily fit a simple lounge spot on their private patio for intimate parties and gatherings. Adding to the outdoor space available, there's also a balcony with unblocked views of the Paya Lebar neighbourhood, which is always a plus point. 
Those who prefer a more private development might appreciate that there are only 120 units.
Near Paya Lebar Square, PLQ, Joo Chiat
To me, its location is also very ideal. There are numerous shopping malls such as KINEX, Paya Lebar Square and SingPost Centre nearby. With that being said, it's around a 14-minute walk to Paya Lebar MRT (East-West line and Circle line) and Dakota MRT (Circle line) stations.
Alternatively, Haig Road Market and Food Centre is a quick 5-minute walk away for more affordable and convenient dining and grocery shopping options. 
However, it is its vicinity to the Joo Chiat shophouses and cafes that make living in this location special. It is around a 6-minute walk away from famous cafes such as Tiong Bahru Bakery and Wunderfolks, which completely adds to the character of the neighbourhood.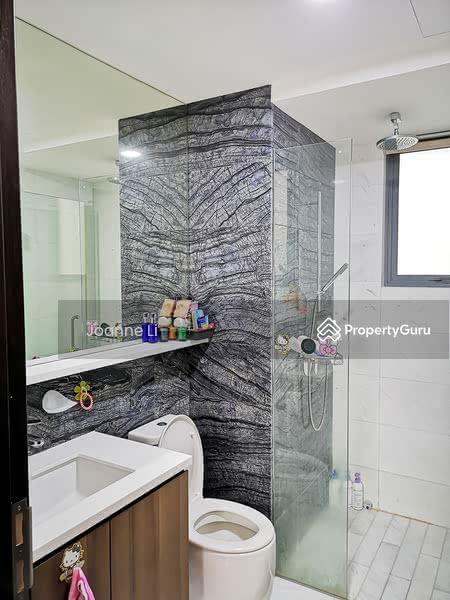 8M Residences Condo – $2,200,000
| | |
| --- | --- |
| Address: | 8 Margate Road, Singapore 438049 |
| Tenure: | Freehold |
| Size: | 1,324 sq ft (3 Bed, 2 Bath) |
| $PSF: | $1,661.63 PSF |
| Developer: | Gcap Properties Pte Ltd |
| TOP: | 1985 |
8M Residences offers a rather sizeable unit at 1,324 square feet with 3 bedrooms and 2 bathrooms. In terms of location, this development is great for outdoor lovers since it is less than a 15-minute walk to East Coast Park and a short walk to Geylang Park Connector which leads residents to the Singapore Sports Hub, Gardens by the Bay and Marina Barrage. 
Near Katong Park MRT Station
One of the key pain points for this location is its lack of direct access to public transport options. However, the announcement of Katong Park MRT (Thomson-East Coast line) which is estimated to be completed in 2024 is just a 4-minute walk away from 8M Residences would make a big difference to the liveability in the area. 
Near Dunman High School, Chung Cheng High School
This is a great spot for young families with schooling children since great schools like Dunman High School and Chung Cheng High School are a short distance away. Not only that, the Singapore Swimming Club is also located nearby.
The unit itself has squarish layouts to maximise space usage and the pool is of a decent size for young families to lounge in. The surrounding area is rather serene and breezy for a peaceful home setting.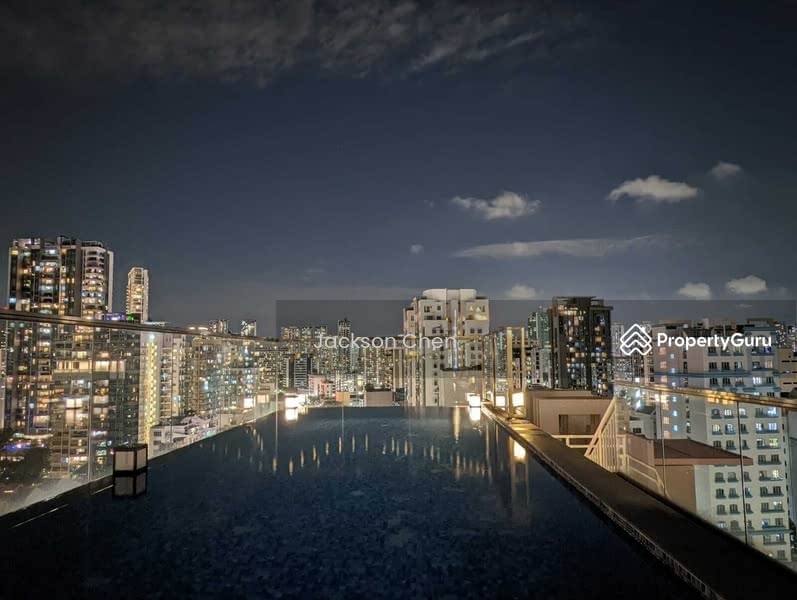 Bliss Loft – $1,490,000
| | |
| --- | --- |
| Address: | 25 Kim Keat Close, Singapore 328933 |
| Tenure: | Freehold |
| Size: | 1,399 sq ft (2 Bed, 1 Bath) |
| $PSF: | $1,065.05 PSF |
| Developer: | Oxley Hume Investment |
| TOP: | 2009 |
Located near the Novena area, this 1,399 square feet unit has been recently renovated with mostly neutral designs and many tasteful corners, which would save the next owners quite a fair bit on renovation costs.
Unblocked views of Novena 
It has a long hallway with bay windows that allow ample natural lighting and unblocked views of the neighbourhood.
With two bedrooms and a bathroom, it's a great space for a small family or ideally a couple to call home. The living and dining area also receives a lot of sunlight given the full-height windows, though my highlight would have to be the private pool that has really great views of the city – something that would be very nice especially during the night time. 
Near Whampoa Food Centre, Balestier Food
Bliss Loft is located directly beside Whampoa Food Centre for affordable dining options, topped off with other eateries located in shophouses along Balestier Road. Zhongshan Mall is about a 10-minute walk away.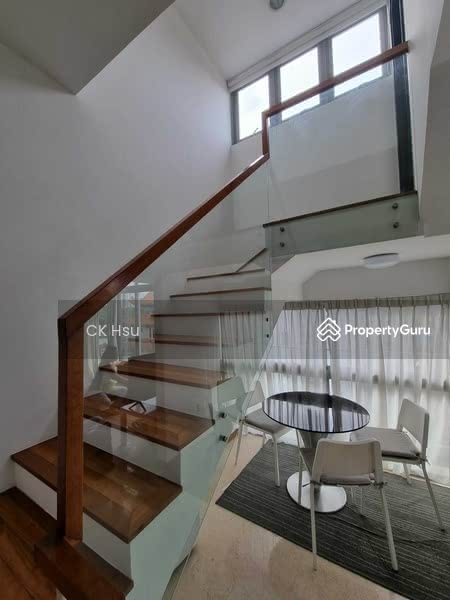 Suites @ Shrewsbury – $1,380,000
| | |
| --- | --- |
| Address: | 84 Shrewsbury Road, Singapore 307842 |
| Tenure: | Freehold |
| Size: | 818 sq ft (1 Bed, 2 Bath) |
| $PSF: | $1,687.04 PSF |
| Developer: | Macly Capital Pte Ltd |
| TOP: | 2013 |
For those who enjoy hosting gatherings at home, this unit offers owners a great balance between privacy and ample space. 
Private pool and jacuzzi
At 818 square feet, the master bedroom is located on the upper floor with the pool and jacuzzi with a private pool deck.
On the other hand, the entirety of the lower floor is catered to the living, dining and study area, along with a balcony to enjoy unblocked views of the Novena neighbourhood. I appreciate that there are numerous glass windows in the stairwell connecting the two floors for ample natural light to filter into the house.
Near Novena MRT, Velocity, United Square
The nearest MRT station is at Novena (North-South and Downtown line) which is located just a brisk 10-minute walk away. With that being said, it is near malls such as Velocity, United Square and Square 2.
I do like the fact that it's a rather family-friendly area since there are multiple schools nearby, such as St. Joseph Institution and Anglo-Chinese School.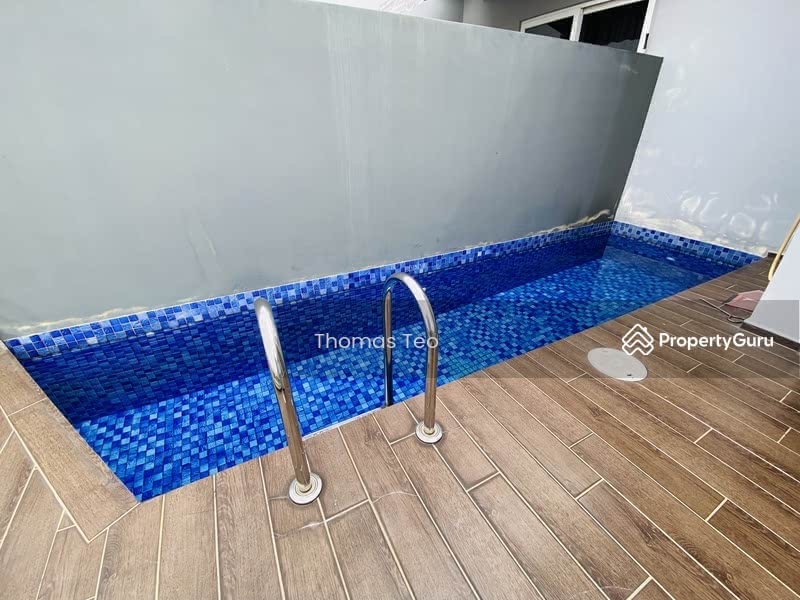 Suites @ Topaz – $1,830,000
| | |
| --- | --- |
| Address: | 3 Topaz Road, Singapore 327849 |
| Tenure: | Freehold |
| Size: | 1,464 sq ft (2 Bed, 2 Bath) |
| $PSF: | $1,250.00 PSF |
| Developer: | Goodland Development Pte. Ltd. |
| TOP: | 2013 |
In terms of generous outdoor space, I'd say that this unit might just take the cake.
Private pool and roof garden
With 2 bedrooms, 2 bathrooms, 2 balconies, ample roof garden and private pool space, it is 1,467 square feet big – especially great for those who appreciate alfresco living.
The rooms are also sufficiently spacious, which is great for a couple or a small family to live in. It's also facing the Kallang River, which adds on to the entire ambience of the development.
Near Potong Pasir MRT, The Poiz Centre
Just under 10-minute walk would get residents to Potong Pasir MRT Station (North-East line) and dining and shopping options at The Poiz Centre. Alternatively, there are a handful of eateries just below the development along Opal Crescent, The Venue Shoppes and Tai Thong Crescent.
Outdoor lovers might also appreciate the location since it is a short walking distance to Kallang Park Connector, which is also connected to Kallang Riverside Park. Most notably, it is located just across St. Andrew's Junior School. 
5 Best Condos near Central Business District
Singapore may be decentralising, but your office is in the CBD or in town right now. And after years of getting up at 6am just to make it to morning meetings, you're probably hoping your first condo can bring you a little more sleep, and a little less time on the road.
Unfortunately, most prime region condos are priced above average; and rising prices are spreading even into the Rest of Central Region (RCR). The good news is, there are still viable city fringe condo options at reasonable prices – hopefully a price that you could reasonably expect to cover with the sale of your flat. 
Here are some city fringe condo favourites that combine a low quantum, with good proximity to the MRT and other amenities:
1. Bartley Ridge – $798,000 to $2,950,000
Address: Mount Vernon Road (District 13)
Developer: Mount V Development Pte. Ltd. (UOL)
Lease: 99-years from 2012
Completion: 2016
Number of units: 868
Price psf: $1,464 – $2,011
Bartley Ridge is a rarity: a condo located just 210 metres from an MRT station (Bartley MRT on the Circle Line), on the city fringe.
Near Bartley Secondary School, Maris Stella Primary
This condo is also within walking distance of two schools: Bartley Secondary School (around 210 metres), and Maris Stella Primary (about 360 metres).
Two main drawbacks: Mount Vernon Camp, No amenities
The first is that Bartley Ridge is close to Mount Vernon camp, and there's no sign that this will change anytime soon. Even so, Mount Vernon camp is far from noisy (as most NS men know, noisier activities take place in training grounds further away).
The second issue is the lack of amenities in the immediate vicinity; there are no notable malls, coffee shops, etc. within strolling distance. However, this is offset by the MRT station being so close, and the proximity to NEX the next neighbourhood over.
Overall, we feel the city fringe location and low quantum can make Bartley Ridge an attractive prospect for landlords. However, singles who need to work in the CBD, or areas like Tai Seng Industrial Park, can also find good value here.
2. Oleander Towers – $1,200,000 to $2,380,000
Address: Lorong 1 Toa Payoh (District 12)
Developer: Wing Tai Holdings
Lease: 99-years from 1995
Completion: 1997
Number of units: 318
Price psf: $1,394 – $1,639
Oleander Towers is quite under the radar despite its location; and this could be due to increased sensitivity toward lease decay in recent years. 1997 is not very old however; it's still quite viable if your holding period is 10 years or so.
Near CHIJ Primary & Secondary
Oleander Towers is directly across the road from CHIJ Secondary, and only about four minutes' walk to CHIJ Primary. This remains one of the main draws of the condo. There are also four additional schools within a one-kilometre radius, including:
Kheng Cheng School (515 metres)
Marymount Convent (790 metres)
Balestier Hill Primary (845 metres)
Balestier Hill Secondary (992 metres)
Near Toa Payoh MRT Station
In addition to this, Toa Payoh MRT station is only 390 metres away, or about a six-minute walk.
Another advantage is the limited number of private homes nearby. Apart from Trellis Towers, Trevista, and Sky @ Eleven, there are few contenders for being near the Toa Payoh MRT station. Tenants know this, and could be "stickier" as a result.
One drawback is the density of the area (a fact that's hard to avoid in the RCR), and the age of the condo. While its well maintained, Oleander Towers is visibly dated from the façade, and some buyers have even commented that it looks like an HDB block from the outside.
Another issue is the underlying rumours of an en-bloc, which wouldn't surprise us given the prime location and age. However, it does mean buyers need to be careful, as an en-bloc within three years' of purchase will still incur Sellers Stamp Duty (SSD).
If you can look past these elements, and you'll see a good location at a good price.
3. Southbank Condo – $1,900,000 to $2,800,000
Address: 881 North Bridge Road (District 7)
Developer: Kings & Queens Development Pte Ltd (UOL)
Lease: 99-years from 2006
Completion: 2010
Number of units: 197
Price psf: $1,904 – $2,201
Southbank is something of a landmark; it's the 40-storey building located at 881 North Bridge Road, just across from the Lavender MRT station. Many home seekers have been surprised to find that, despite Southbank's imposing presence, it's small with just 197 units.
Near Lavender MRT, Good for rental
This development was always meant to entice investors more than pure home buyers. The location is extremely convenient and close to town, and the units – with a high price psf but a low quantum – is the sort that rent-seekers gravitate toward.
At 614 sq ft for a one-bedder, this would be considered big for a compact unit (generally 510 sq. ft. or under). You could consider it a luxury of space for single residents, compared to smaller units found today. As such, home owners who are singles may also find Southbank to their liking.
Close to the city, Lots of food & amenities
Convenience and amenities are unparalleled for the price – you're minutes away from town, and just across from the MRT station. All the food and shopping you want is just one or two stops away.
This condo feels squeezed into a concrete jungle; despite the height – you'll be living close to the heart of the city, with all the noise, traffic, glass, and concrete that entails. True urbanites can appreciate it; otherwise look elsewhere.
4. Studio 8 Condo – $760,000 to $1,290,000
Address: 8 Jalan Ayer (District 14)
Developer: Aston Capital Pte. Ltd.
Lease: Freehold
Completion: 2014
Number of units: 28
Price psf: $1,498 – $1,855
Small, boutique developments often slip under the radar. Studio8 is one of these, despite the good amount of foresight that went into the location.
Near Kallang MRT & Kallang Wave Mall
This tiny condo has benefited tremendously from the opening of the Singapore Sports Hub, with the attendant Kallang Wave Mall. It's about 750 metres (11 minutes on foot) to the Singapore Sports Hub.
Studio8 is also just 184 metres from the Kallang MRT station – in fact it's the closest private residence to Kallang MRT, with the next closest being Centra or The Riverine by the Park.
For pure home-buyers, this is a no-frills boutique condo for singles; it's a rare, affordable way to be on the city fringe and near the Singapore Sports Hub. It's also a freehold property, for those with a longer term view.
5. Tresalveo – $1,062,482
Address: 9 Marymount Terrace (District 20)
Developer: Soon Lian Realty Pte. Ltd.
Lease: Freehold
Completion: 2012
Number of units: 176
Price psf: $1,515 psf
We'll be direct: the reason for Tresalveo's lower prices is the new North-South Corridor (NSC), which runs close to the development. The new corridor could result in some degree of noise pollution – there's no way to say for sure how bad it will be, but buyers should brace for the possibility.
Poor flooring, Requires more renovation
We've also heard criticisms about the finishing for the smaller units (those are the ones reflected above); these generally involve the quality of flooring. However, it's hard to quantify or generalise; we'd encourage close inspection of the unit in question. Poor finishing could entail additional renovation costs.
Near Marymount MRT
Now that's out of the way, Tresalveo is a condo that has an otherwise good location. It's only 244 metres (about four minutes' walk) to Marymount MRT station. Alternatively, it's about 1.4 kilometres to Bishan MRT station, where you'll also find malls like Junction 8. It's also a freehold condo, which might appeal to long-term city fringe investors.
Those who are confident the NSC won't impact Tresalveo as badly as thought will see this as a possible discount buy.
The quantum probably matters more than the price psf
Remember it's the quantum that determines:
The maximum amount of financing (75 per cent of price or valuation, whichever is lower)
The rental yield
Eventual gains upon resale
The ultimate level of affordability
As such, home buyers – especially singles who don't need large units – should be focused more on the quantum than the price per square foot. Within this perspective, some RCR city fringe condos can be more affordable than most would assume.
5 Best Condos with Unique Facilities
One person's hype can be another person's "must-buy" condition. However, sometimes unusual selling points fail to be made known due to the overwhelming number of facilities; or even in listings (that's partly why we make videos about cool condo units).
It's also why, every now and then, we put together this list to highlight interesting and overlooked details in new condo launches:
1. Jervois Mansion – $2,100,000
Got multiple children in NS? Need to wash a mountain of bedsheets? If your washing machine can't handle it, Jervois Mansion has a gigantic one for residents on the roof. Jervois Mansion features a commercial washing machine on the roof.
Commercial washing machine for laundry
This is the kind of washing machine you find in a serious laundromat – the sort that can handle a massive load of laundry at one go. This isn't something we've seen in any other condo development, and it's genius.
Whether your washing machine can't handle three bedrooms worth of sheets, or your two NS-serving sons are back from Tekong with their body weight in unwashed uniforms, it's more practical than you may think.
Location: 6 Jervois Close (District 10)
Developer: Kinmen Realty Pte Ltd
Lease: Freehold
TOP: 2026
Price psf: $2,575 psf
Near Tiong Bahru & Great World City
Given its prime location (eight minutes' drive to Tiong Bahru, five minutes drive to Great World City), this is far from unreasonable. For its size too, the list of facilities is pretty amazing.
It was really smart to put the bulk of the facilities on the rooftop to make up for the smaller land plot – and it must be said that everything is very well thought out and generally very useful (unlike what you might see sometimes, in what I like to term as brochure padding).
Also, the distance from Jervois Mansion to Valley Point is an underrated benefit. Valley Point isn't exactly a retail hotspot – but it does have eateries, supermarkets (NTUC and Cold Storage), and a vet clinic (pet lovers take note); this is just a four-minute walk.
On the point of unusual features, one more that we'd like to point out is the glass lift. While that on its own may not be too unusual, the developers have actually commissioned a special painting that would span the bottom to the top floor. This means you'd get an extended view of it each time should you move from the ground to the top!
Ultimately, the appeal of this development has proven to be too popular, as 104 out of the 105 units were sold over the launch weekend in October 2021.
2. Meyerhouse – $4,500,000 to $14,860,000
Meyerhouse has private lifts and lift lobbies for every unit (especially relevant in this Covid-19 era). That's right – for every unit. You will never again have to share your lift lobby with anyone else.
No more paying $5 extra for Grab because someone decided to hold the lift for three minutes to swap their life story with a neighbour – or squeezing in with movers and three bedrooms worth of furniture, because the neighbour is moving.
On a more serious level, residents who are mobility impaired (e.g. using wheelchairs) can find private lifts a huge help.
Location: 128 Meyer Road (District 15)
Developer: Secure Venture Development No.1 Pte Ltd
Lease: Freehold
TOP: 2023
Price psf: $2,525 psf
Meyerhouse has only 56 units, because it goes back to an old school trend of really huge units. The smallest units here are around 1,862 sq ft, with the largest going up to a whopping 5,662 sq ft.
District 15 is a luxury area, and this project is well and truly built to match that.
Near Amber Park MRT Station
In an unusual twist for a luxury enclave, there's actually an MRT station nearby. Amber Park MRT which sits on the Thomson-East Coast Line (TEL) is only a five-minute walk away.
Near Katong & Parkway Parade
Meyerhouse is also just a six-minute drive to the lifestyle and foodie stretch of East Coast Road and Katong, and about the same distance to Parkway Parade (the main heartland mall for the area).
For those who want a true luxury property in the east, Meyerhouse is the best money can buy among recent launches.
This comes with the predictable drawback of a pricy quantum. Even the smallest units see a quantum of around $4.9 million. This condo is a pure indulgence.
3. Amber Park Condo – $1,199,999 to $6,880,000
Want to jog with a bird's eye view of the neighbourhood? Don't want to risk being run over while you're at it? Amber Park has a jogging track that's 22 floors above the ground. The jogging track is part of the Stratosphere area. It extends for 600 metres, and offers a panoramic view of the neighbourhood, as well as a sea view.
This area also includes a gym and yoga deck, plus a gourmet dining area to immediately replace the calories you worked so hard to burn. This isn't the first jogging track on the roof – but it's the first to be located this high up and at this length too.
Location: 18 Amber Gardens (District 15)
Developer: Aquarius Properties Pte Ltd
Lease: Freehold
TOP: 2024
Price psf: $2,469 psf
Amber Park is around one kilometre from Meyerhouse (see above), so we're still in high-end, luxury condo territory.
A Luxury Condo
Amber Park is much closer to the lifestyle hotspots than Meyerhouse – you can walk to the Katong / East Coast Road stretch in just around nine minutes. Incidentally, this also places the Canadian International School within walking distance. Coupled with being an expat enclave, this might indicate some rental potential.
For those willing to accept smaller units, the 678+ sq ft units at Amber Park have historically transacted at $1.83 million. Not bad, for a luxury area and a freehold condo; and it's a price point that may draw investors as well as home buyers. Mind you, some investors may not like the number of other small condos nearby (but these are much older).
4. The Reef at King's Dock – $1,320,000 to $3,657,000
Want to watch the marine life, and swim close to nature without leaving home? The Reef at King's Dock has a floating deck, which integrates the pools – along with a Marine Hammock – with the actual dock itself.
When we say "floating dock", we mean it quite literally – the dock will move up or down with the tide (see our review for exact details).
The 50-metre lap pool, leisure pool, etc. are part of this dock, which helps to seamlessly blend the actual seafront with your swimming pools.
The Marine Hammock, at the end of the dock, allows you to spot various forms of marine life if you stare long enough (and get lucky; sometimes it depends on the time of day and tidal conditions).
Location: 2 Harbourfront Avenue (District 4)
Developer: Mapletree / Keppel Land
Lease: 99-years
TOP: 2025
Price psf: $2,400 psf
Near Harbourfront MRT, Vivocity, Sentosa
The Harbourfront MRT station, which is just a 10-minutes walk away, provides access to two train lines: The Circle Line and North-East Line. Harbourfront is also home to Vivocity, one of the main retail hubs of District 4.
In case it needs to be mentioned, the crossing to Sentosa Island is here.
Comparable to Sentosa condos
The Reef at King's Dock provides an alternative (we think a superior one) to many of the non-landed homes on Sentosa, which haven't fared as well.
It's at a more reasonable price point, the location is more convenient, and the waterfront view is just as amazing. Still, buyers are inevitably going to look at existing counterparts like Reflections at Keppel Bay – and the ready availability of these nearby resale units will be a draw in today's pandemic construction delayed world.
They are, after all, still neck-and-neck when it comes to facilities and amenities.
5. Parc Clematis
Is your condo too far from a natural "blue lagoon" setting? Well if nature won't give it to you, a developer will just make one for you. Parc Clematis is a lagoon resort, even if there wasn't any lagoon there initially.
The lagoon in the middle of Parc Clematis spans 100 metres by 38 metres, making it one of the largest common facilities ever built in a condo. It's only possible because Parc Clematis is a mega-development, with around 400,000 sq ft of facilities.
The lagoon stretches to reach the base of several blocks; and because it's naturally sloped, it even mimics the contours of a real lagoon.
To be clear, this isn't the only large lagoon we've seen; we've also seen versions in The Jovell and Treasure at Tampines.
But few are this well done, or of this scope. It's definitely at a big enough scale that it could have tipped the scales for many buyers.
Location: 8F Jalan Lempeng (District 5)
Developer: Sing Haiyi-Gold Pte. Ltd
Lease: 99-years
TOP: 2023
Price: $1,697 psf
Parc Clematis is only a four-minute drive to Clementi Mall. This is the major heartland mall for the neighbourhood, and also where the MRT station is located.
Near Clementi MRT Station
Prices are good for the extent of the facilities: A 969 sq ft unit, about on par with a four-room flat, transacts at around $1.67 million.
Near NUS, Singapore Poly
This is not bad for Clementi, a hotspot due to its proximity to educational institutes like NUS. It's a five-minute drive from here to NUS or Singapore Polytechnic.
Parc Clematis is also a viable alternative for those who want proximity to One North, which has few residential options besides Normanton Park and One North Eden. It's only around a six minute-drive to this tech and media hub.
Buyers who don't like mega-developments will be turned off by the 1,450 units, and some investors will consider it too much competition.
However, Parc Clematis is a strong offering for genuine home buyers, who want a private property in increasingly pricey Clementi.
3 Popular & hyped Condos in Singapore
With condominium developments being launched all over the island, it seems to be an opportune time to consider purchasing one for investment or upgrading. Here are three pretty popular condo projects in Singapore that generated serious buzz and hype when they launched:
Northwave Executive Condominium (EC) – $1,209 psf
This Executive Condominium (EC) located along Gambas Avenue is affordably priced for upgraders looking for good value.
Developed by Hao Yuan Investment, it comprises six 16-storey towers offering 358 units made up of 2, 3-, 4 and 5-bedroom apartments, as well as six penthouses. The big draw at this EC is its practical layout. Sizes start from 678 sq ft for a 2-bedder to 1,593 sq ft for the penthouse.
It was launched in 2016 at an affordable average of $760 psf. One 1,109 sq ft unit sold in Nov 2016 went for as low as $695psf, and another unit of the same size peaked at $941psf in Aug 2018.
Facilities include a wading pool, jacuzzi, 50m swimming pool, bbq pavilion, skate park, basketball cum futsal court, hydro-spa pool, gymnasium and badminton court.
Near Admiralty & Sembawang MRT
Located between Admiralty and Sembawang MRT stations, Northwave EC is also close to Seletar Expressway.
The upcoming major expressway, the North South Corridor, which will have an adjacent cycle path, will also run behind Northwave. Nearby shopping malls include Northpoint, Sun Plaza, Causeway Point and Sembawang Shopping Centre. Residents are served by schools, such as Greenwood Primary, Sembawang Secondary and Singapore Sports School.
The Woodleigh Residences – $1,100,000 to $3,088,000
The Woodleigh Residences occupies the much-coveted city-fringe location at Bidadari estate, bordered by Upper Serangoon and Upper Aljunied roads. Co-developed by Singapore Press Holdings and Kajima Development, which outbid 11 other contenders with a $1.132 billion offer, this is a mixed development containing both residential condominium and retail mall.
Located in Bidadari new town
What caught the eye of top Asian property developers (and, undoubtedly, its future residents) is its sweet spot next to Woodleigh MRT Station. The 99-year leasehold project boasts 11 blocks of 11 storeys, with a total of 667 units of 2, 3, 4-bedroom units.
The Woodleigh Residence Launch Price: $1,700 to $2,000 psf
Unit sizes range from 570 sq ft to 1,475 sq ft. Residents can also look forward to many exciting new developments in Bidadari New Town, from a retail mall and a community club to a commercial bridge connecting Bidadari Park to the bus interchange for greater connectivity.
Near Maris Stella High, Cedar Primary, St Andrew's School
Parents will also be pleased to know that within 1km to 2km are popular schools such as Maris Stella High School, Cedar Primary School, St Andrew's Village and Stamford American International School – a plus for investors hoping to attract expat families.
Touted as "the first and only integrated development in Bidadari", it also boasts a clean Japanese-style design, architecture and construction.
Walls are built to be easily removed to expand spaces, with nifty storage spaces built into tight spaces. Residents will also enjoy unblocked views of Alkaff Lake.
3 Orchard By-The-Park – $3,000,000 to $30,638,000
If you're an uptown girl (or family) who wants to sink roots in the uptown world, the chic 3 Orchard By-The-Park makes for both an eye-catching and investment-savvy choice.
This is YTL Land & Development's first luxury condo in Singapore. They are the same folks behind the award-winning collection of villas in Sandy Island and Kasara – the Lake, both located in Sentosa Cove; other luxury projects in Malaysia; and a chain of YTL hotels and resorts around the world.
Price psf: $2,655 to $5,031 psf
Designed by Italian Architect Antonia Citterio
"This is also the first residential development in South-east Asia by the renowned Italian architect and designer Antonio Citterio who holistically designed the architecture, interior and products (including furniture and fixtures) featured throughout the development," says Joseph Yeoh, vice-president at YTL Land & Development.
Citterio is the architect and creative maestro behind the Bulgari flagship hotels in Milan, London and Bali, and is also a much sought after furniture and fittings designer. You can spot his understated luxury touches and attention to detail throughout every apartment – for instance, the unique wooden boiserie feature wall in the living room, the customised Arclinea gourmet kitchen, and the door handles and the glass in the shower are designed and specifically selected by Citterio.
Next to Orchard Boulevard MRT Station
The boutique condominium of 77 freehold apartments in three towers is smack in a shopping haven and next to the Orchard Boulevard MRT Station.
Facilities include a pool, gym, several spaces such as a gourmet dining and private dining areas and poolside kitchen, and an elegant library lounge. Relax on Citterio-designed furniture, as YTL's specially trained concierge team serves up complimentary cheeses, crackers, dried fruits and beverages, catered by Jones The Grocer.
One of the project's most unique selling point is its lush garden. The condominium draws inspiration from nearby Unesco Heritage Site Singapore Botanic Gardens (which, incidentally, is the park referred to the project's name). You can find many plant species here too, which attract a symphony of singing cicadas and birds.
3 Orchard By-The-Park has pulled in a good mix of local and foreign buyers, particularly Indonesians and Chinese nationals. Apartments range from roomy 1,066 sq ft 2-bedders, to 2,260 sq ft 4-bedder and 5-bedroom penthouse, which drew interest both from investors eyeing strong rental yield and home buyers alike, from singles and young couples to bigger families.
Part of this article first appeared on Stacked.